dangly-bits dot com
No doubt ye be wonderin' what kind of fair fools this lot be...
Team Jolly Rogers was created as a side-effect of raising funds for the National Brain Tumor Foundation. Y'see, Dawn's late husband, Roger, was a long-term brain tumor survivor. Upon his passing, Dawn, her son Jonathan, her sister Kathy, niece Amber and (then) Best Friend Lauren got together to form a team to carry on Roger's fund-raising efforts. Dawn convinced everyone to wear Pirate costumes, and decided to make hair decorations for the team to wear... Amber had a thought, one thing lead to another and dangly-bits became a saleable item in her Faire booth, The Amber Wolf. Amber works with the gourds and other pyrography, and makes the incense, and Dawn and Lauren are the folks who make the dangly bits, in the wee hours of the morning...
Here's a little more about us...
Captain Ramona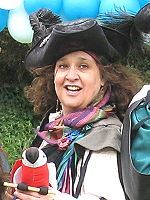 Who? I thought you said, Dawn and Lauren?? Who is Ramona??
Every ship needs a capt'n and Ramona capt'ns Team Jolly Rogers. There's a story to be told about her, where she came from and all. But to date, she's not tell'n. It's enough to know she's sailed many a difficult course. Her full-on "take no prisoners" attitude has gotten her through more than just a few hard-won battles. Always ready for an adventure, her next is to live life to the fullest. With her faithful Cabin Boy by her side and her trusty (or is it rusty?) Crew backing her up, nothing stands in her way. Truth be told, by day she's known as Dawn as she navigates the intricacies of business systems analysis and Web design (need a Web site?). Often it takes a Pirate to show the rest there are better ways to accomplish things. And a pirate capt'n always knows just what is important... RUM! ("Oh, CABIN BOY....!")
The Cabin Boy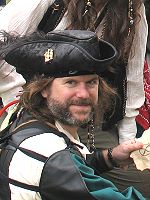 Every Captain needs a Cabin Boy. Lauren (yes, Lauren is a GUY) fills the position quite nicely. If you've been anywhere near our booth at Faire, you've probably heard us calling upon him for one thing or another (mead, rum, more rope... you get the drift). The thing is - the guy is pretty talented. He can lash mirrors to poles, carry all kinds of things without getting tired and cranky, and actually makes sure the Captain has enough to drink.
A handy fellow, an Eagle Scout, woodworker, writer, Scrum Master, Programmer / Analyst, Best Friend and Significant Other for the Capt'n, versatility comes naturally for our Cabin Boy. He doubles as the helmsman for the good ship "ARRSHIP" (a.k.a. "the B.F.T."), among his other roles.
Not only that, but he managed to sunburn on top of a henna tattoo, and now has a "reverse" on his arm. Stand back when Flossie calls out for Cabin Boy to take off his shirt - 'tis a rare sight, indeed.
The Other Members of Team Jolly Rogers:
Flossye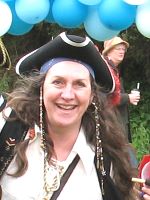 We love and miss our dear Flossye - otherwise known as Dawn's sister, Amber's Mom, and Jon's Auntie: Kathy.
She has now gone into the West, beyond these shores.
Gone, but never forgotten.
Amber (a.k.a. Cap'n One-Eye, or Cheekie)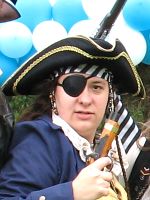 Possibly the only one the Captain calls "Boss", Cap'n One-Eye (usually known as Amber) is the proprietress of The Amber Wolf, and has been kind enough to provide space for our wares. You will find she's generally "on fire", and you can locate her by the smoke of her incense.
Jon (a.k.a. Monkey Boy)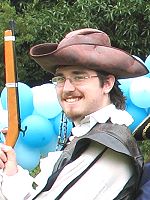 The Captain's son is a rare sight to see, at Faire... as a matter of fact, he has only once gone to faire with us - but is a braw comrade-at-arms when it comes to the annual Bay Area Angel Adventure for the National Brain Tumor Foundation.